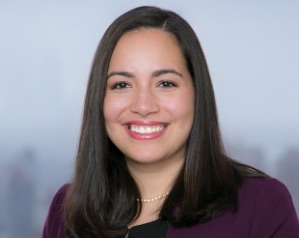 Zila Acosta-Grimes
Associate, Debevoise & Plimpton Financial Institutions Group
Zila Acosta-Grimes is a member of the Debevoise & Plimpton Financial Institutions Group based in the New York office. Her practice focuses on banking regulatory, transactional, and compliance matters. Prior to joining the Financial Institutions Group, Professor Acosta-Grimes was a member of Debevoise's Investment Management Group. Before joining Debevoise, she worked at Goldman Sachs in their Compliance Department, the Manhattan Times, and the MirRam Group, and was Lin-Manuel Miranda's executive assistant.
Professor Acosta-Grimes attended Columbia Law School, where she was a Harlan Fiske Stone Scholar; an articles editor at the Columbia Law Review; and a university senator, chairing the Student Caucus and Rules Committee of the University Senate.
In 2018, Professor Acosta-Grimes received Debevoise's Pro Bono Service Award for her work representing the Community Development Venture Capital Alliance's Puerto Rico Fund for Growth. In 2017, she received the Puerto Rican Bar Association's Flor De Maga award as a rising legal star.