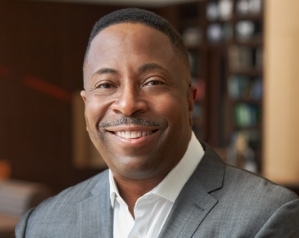 Michael Blackshear
Senior Vice President, Chief Compliance and Privacy Officer for Ryan Specialty Group
Michael Blackshear serves as Senior Vice president, Chief Compliance & Privacy Officer and Head of Diversity, Equity, and Inclusion (DE&I) for Ryan Specialty. Michael is responsible for maintaining and growing an effective compliance and regulatory risk management framework, along with developing and leading a newly created DE&I function with the strategic mission to promote DE&I at the firm, along with building strong alliances within the insurance industry and communities in which Ryan Specialty colleagues live and work.
Michael has over 30 years of financial service and executive experience in the areas of ethics, compliance, and risk management. Prior to joining Ryan Specialty, he was the North America chief compliance officer for Chubb Insurance Group, responsible for developing and maintaining their North American (NA) compliance program. He was primarily responsible for the NA compliance framework integration and transformation during the ACE/Chubb merger. Before his time with Chubb, he held various leadership roles with Marsh & McLennan Companies, focusing on compliance and government affairs. Before joining Marsh, he held compliance and risk management advisory roles for KPMG and PricewaterhouseCoopers. He began his insurance career as an underwriter for Continental Insurance Company and then as a casualty broker with Alexander & Alexander Insurance Brokerage Firm.
Michael was recently named and recognized in Savoy magazine, as one of the 2022 most Influential Blacks in Corporate America. Savoy magazine is a leading national publication covering African American lifestyle in fashion, business, sports, and entertainment. He was also recognized in Insurance Business America's (IBA) Global 100, for 2021, as an influential insurance professional making waves and positive change in the insurance industry worldwide. In 2020, he was named in IBA Hot 100 insurance practitioners that shaped, transformed, and pushed the insurance industry forward with his dedication, mentorship, and vision. Also in 2020, IBA recognized Michael as a change agent in leading efforts to create an environment to ensure that the doors at all levels of the insurance industry are open wide for people of all races, ethnicities, genders, nationalities, orientations, and ages. Michael also has been honored by both Syracuse University, receiving the Chancellor's Citation, in recognition of his significant career and civic achievements, and by Fordham's Black Law Student Association, receiving the annual Ruth Whitehead Whaley Award for being a prominent alumnus in the field of compliance.
Michael serves on several advisory boards and was elected to the Board of Directors of the Excess Line Association of New York (ELANY) in 2021. ELANY is a nonprofit industry advisory association charged with the duty to facilitate and encourage compliance with the surplus lines insurance laws of New York State. He currently serves as ELANY's Vice Chairman, a member of the Audit and Finance Committee, and is Chairman of the Operations & Procedures Committee. He recently became a member of Syracuse University Board of Trustees and serves on the Audit and Risk, and Enrollment & the Student Experience Committees.
Michael obtained a B.S. in finance from Syracuse University's Martin J. Whitman School of Management, an MBA from St. John's University, Maurice R. Greenberg School of Risk Management, Insurance, and Actuarial Science, and a Juris Doctorate from Fordham Law School, where he currently lectures as an adjunct professor. He also received a certificate in managing ethics in organizations from Bentley College and recently completed a certificate at Loyola University Chicago at the Diversity, Equity, and Inclusion Leadership Institute.Michael currently lectures at Fordham Law as an adjunct professor on the following courses: Introduction to Corporate Compliance, Compliance Risk Assessments, and Understanding the U.S. Insurance Regulatory & Compliance Environment.