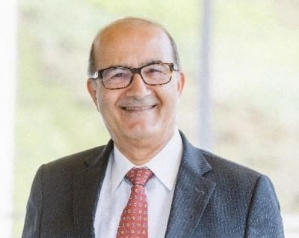 Ed Papantonio
Anti-Bribery and Corruption Compliance Advisory Principal, USAA
Ed Papantonio, JD, joined USAA in April 2020 as anti-bribery and corruption compliance advisory principal, supporting the enterprise, and in particular the Chief Legal Office and Government and Industry Relations team's efforts in anti-bribery and corruption compliance, including in the areas of political contributions, ethics, and lobbying.
Professor Papantonio has over 40 years of experience as a lawyer, from private practice in financial transactions to in-house positions in the investment banking, compliance, and regulatory functions. Immediately prior to joining USAA, Professor Papantonio was with the Enterprise Regulatory Law Group at The Prudential Insurance Company of America, advising corporate centers and business units on political law, Foreign Corrupt Practices Act, sanctions and anti-money laundering issues. He was counsel to Prudential's political action committees and worked on its resolution plan while Prudential was designated as a non-bank systemically important financial institution.
Previously, Professor Papantonio performed similar roles in the political law area at Barclays Capital and Lehman Brothers, where he was a vice president in Fixed Income Compliance advising the municipal securities department in all aspects of its business, including investment banking, underwriting, syndication, sales, and trading and research.
Professor Papantonio joined Lehman Brothers in 1996 as its general counsel for Asia, and has worked in Japan for 14 years. At Lehman Brothers Japan, he was responsible for the legal, compliance, documentation, and internal audit functions throughout Asia, managing 45 professionals, and was a member of Lehman's Asia Management Committee. He established and was chairman of the New Products and Transaction Approval Committees and led Lehman through an audit by Japan's then Financial Supervisory Agency. Externally, Professor Papantonio served as chairman of the International Bankers Association in Tokyo and of the Financial Institutions Legal and Regulatory Committee of the American Chamber of Commerce in Japan, and was a member of the Dai-ni Tokyo Bengoshikai (Bar Association).
Professor Papantonio attended Fordham Law School (JD, Dean's List), the University of Michigan (MA in Japanese literature, Foreign Language fellow, and Japan Foundation fellow), and Georgetown University (BA, cum laude, Phi Beta Kappa). He served as a lieutenant with the U.S. Naval Reserve and speaks and reads Japanese as well as several romance languages.